Watt? Three brothers in one NFL game? It first happened in 1927. Now, it's about to happen a third time in NFL history, and the parents can't see it in person, thanks to COVID-19.
The NFL's three Watt brothers will most likely be seen on a TV commercial this weekend hawking sandwiches instead of being on the field together, which is more of a rarity.
It's only happened twice in history when three brothers played in the same NFL game together. The last time it happened was in 2019, in Pittsburgh, when Tremaine, Terrell and Trey Edmunds played against each other—ironically, at Heinz Field, where the Watt brothers will square off this Sunday.
The other? How about 1927, when Joe, Cobb and Bill Rooney all played for the Duluth (Minnesota) Eskimos, who were part of the NFL for a handful of years.
Newsweek subscription offers >
When the Houston Texans visit the Pittsburgh Steelers this Sunday at Heinz Field in Pittsburgh, it'll be the third time in history that three brothers played in one professional football game, at the same time, together. The last time it happened was just 10 months ago at Heinz Field where this Sunday's reunion will happen. It's been almost 100 years since it happened before that, though.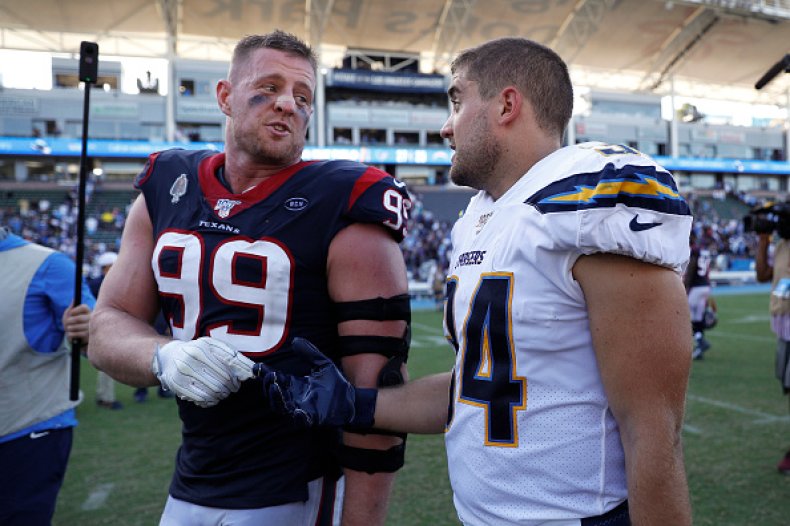 The Texans at Steelers game this Sunday will pit former NFL Defensive Player of the Year J.J. Watt of the Texans against both of his brothers—T.J. and Derek—when Houston plays at Pittsburgh.
One might think their parents could see it in person, but no spectators are allowed at the game because of the ongoing pandemic. John and Connie Watt were disappointed when they found out they couldn't attend this Sunday's game. Here's what they said about their disappointment on KHOU, the CBS affiliate in Houston.
Newsweek subscription offers >
"Extremely, we've been at all the games when the kids played one another," Connie said. "We always try to go to as many games as possible … Not being there is really hard. This is a dream come true to have all three of them on the field, playing together at the same time. Photo opportunities, it's something we've always wanted and dreamed of, and to not be able to be there is really difficult. I just keep holding out hope somehow we're gonna sneak into that stadium … It's probably one of the hardest things for our family."
Pop wishes he could be there as well.
"We thought about can we buy some staff jackets online or medical jackets and maybe sneak into a back entrance, but we don't want to take those chances," John said.
J.J. is 6 years older than his youngest brother, T.J., which means they never got to be on the field at them time in high school or college.
"For this one, I think I feel best for JJ because he's never had the chance to be on the same field with TJ, even though there was the opportunity for it before," John said. "JJ was hurt or something, so it never quite worked out. To have all three of them on the field at the same time, it's one of those things in the back of your mind you wish it would happen, but you never actually think it's gonna happen. When it actually comes true like this, it's unbelievable."
The family first became popular with J.J.'s success in Houston, and then with the success of his brothers. It led to popular Subway commercials for the family, which are typically aired during college and professional football weekends.