So what does it matter that streets read Black Lives Matter, the Black national anthem has been sung at NFL games, and protesters are looking increasingly diverse? The U.S. still, by and large, does not support Black lives, institutionally. The indictment of one officer—and not for the murder of 26-year-old Breonna Taylor but for the endangerment of her neighbors with gunfire—by a Kentucky grand jury is but another example. Racism is outwardly embraced in this nation, with Black folks victimized, blamed and punished for it.
Colin Kaepernick and Eric Reid are still basically blackballed, receiving no formal public acknowledgment or apologies from the NFL for mistreatment. Black folks are also still facing police brutality and violence. Meanwhile, people are supporting violence against BLM protesters, and the president, who has a long, documented history of racism and race-baiting, is drawing adoring crowds at rallies across the nation.
The truth is that white America never appears stronger and more unified than when deciding the fate of Black and brown lives and communities. And Black and brown folks see straight through this.
As a sociologist who has documented years of civil unrest in Ferguson and St. Louis, I recall the mostly Black protesters chanting, "They think it's a game. They think it's a joke." Referring to the white system and people generally, protesters were calling out contradictions—those who say one thing but do the opposite. Other Black activists did not mince words about "smoke and mirrors" and "business as usual" concerning empty promises versus actual progress.
Newsweek subscription offers >
That's because Black people are used to gestures that appear to be for them, but do not actually advance or protect them. And they are accustomed to facing racism from many people, not just members of hate groups.
This is how racism works in America. It occurs through bait-and-switch and everyday exchanges, or microaggressions.
White comfort and Black hardship steadies in these moments. White preferential treatment is held up as Black people are held down.
It goes so far as to revise and reimagine sequences of events and legacies in U.S. history. Take Confederate symbols, for instance. They are functional, since they draw attention to times and struggles that shore up white interests. They underscore the white racial order as a national or "nationalist" experience and patriotism. This is as Black or diverse experiences are optional and at the whim of white and institutional temperament. Calls for promoting "patriotic" education and banning the New York Times' 1619 Project are also recent examples.
Newsweek subscription offers >
Racial displays of power are retaliatory. They are part of the reason many Black protesters chant, "We ready, we ready, we ready for y'all" in the mostly unprovoked standoffs with police. Black folks have long understood the state's tit-for-tat inability to pass on Black dissent.
Vengeful state violence has only made clearer that Black lives just don't matter. How could they, with predominately white empowered decision-makers politicizing and ordering the fate of many already-traumatized, nonviolent BLM protesters? This is with Americans watching, in real time.
These violent encounters are part of a vicious cycle. As Black folks are victimized and moved to civil unrest, they are met with more state violence. This is while BLM signs, T-shirts, social media profiles, organizational statements, TV ads and more spread across the country.
"Black lives mattering" is too often performative.
Some white citizens seem outraged at racial discrimination initially. But later, they reconcile with their racial privilege and conscience through "but" and "if" scenarios—to them, Black lives matter depending on the conditions.
It's no surprise, then, that Black people fighting discrimination is relatively supported until it negatively affects white comfort or gains, especially economically.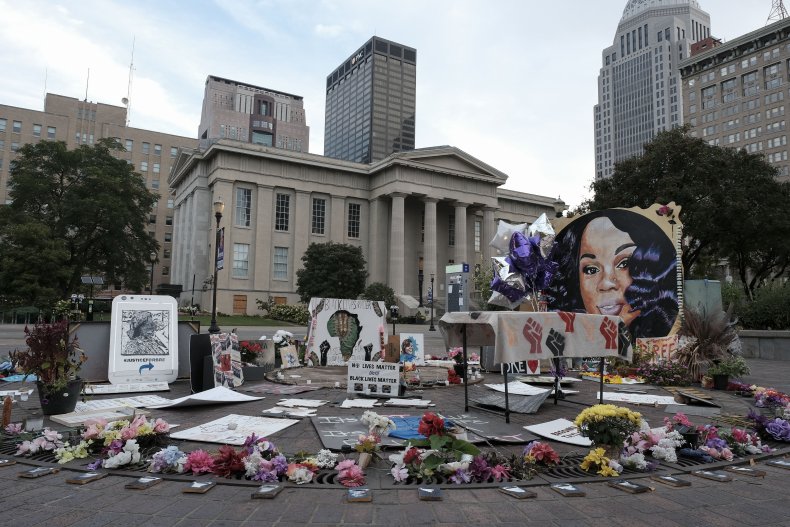 With most U.S. businesses owned by white entrepreneurs, white economic interests are of national importance. And protection of them is national security. Both are reasons for concerns of property damage amid protests, even as more cases of brutality and the murder of Black people come to light. This is because Black lives mattering has been historically transactional.
White support for the BLM movement has decreased in recent months, while the nation's top law enforcement official outright denies institutional racism. Lawmakers and officials are increasing their racist rhetoric and actions, as if daring to be challenged. That's unlikely. There seems to be a solid enough audience in America who agrees with it or finds satisfaction in it.
Racism is incentivized. It preserves white supremacy, at all costs. Until this changes, the United States will still send and enforce the message that Black lives don't matter, and race relations will be what they've always been—systemically dysfunctional, disorderly and contradicting.
Andrea S. Boyles, Ph.D., is a visiting associate professor of sociology and Africana studies at Tulane University. She is the author of Race, Place, and Suburban Policing and You Can't Stop the Revolution.
The views expressed in this article are the author's own.
tinyurlis.gdv.gdv.htclck.ruulvis.netshrtco.detny.im