Democratic Presidential Candidate Joe Biden is leading in the battleground states of Nevada, Ohio and Pennsylvania, with most likely voters disapproving of President Donald Trump's job performance, according to Fox News polling data.
In the new polls, released Thursday afternoon, majorities of likely voters in all three of the key states indicated disapproval of Trump's job performance as president and said Biden was their preferred choice to handle the coronavirus pandemic.
Biden led his Republican opponent 52-41 in Nevada, 50-45 in Ohio and 51-44 in Pennsylvania.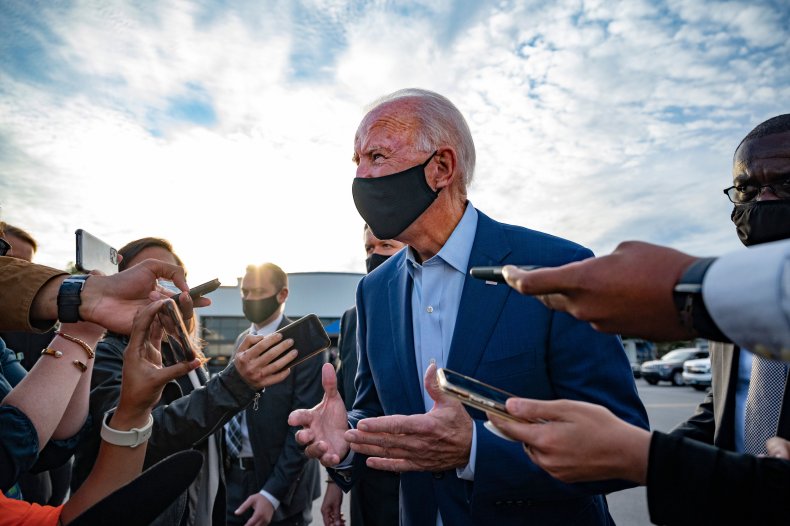 Newsweek subscription offers >
In Nevada, Hispanic voters and voters under 35 overwhelmingly favored Biden, while Trump was more favored by whites and rural voters. Although more voters—15 percent—said they trusted Biden more to handle the pandemic, Trump still had a 3 percent lead when it came to handling the economy. Forty-six percent approved of the president's job performance and 53 percent disapproved.
In Ohio, women, white voters with college degrees and suburbanites favored Biden, while more men, white voters without college degrees and rural voters backed Trump. Similar to Nevada, Ohioans favored Biden to handle the coronavirus pandemic, but believed Trump would be best to handle the economy. Forty-seven percent of respondents approved of Trump's job performance as president and 51 percent disapproved.
In Pennsylvania, non-whites overwhelmingly favored Biden. Additionally, more women, seniors, suburban voters and union households supported the Democrat. Trump came out on top among men, white voters, rural voters and whites without a college degree. Fifty-four percent of respondents in the state disapproved of the president's job performance, while 45 percent approved.
"Trump's surprise 2016 win in Pennsylvania was driven by his mobilization of voters in the northern and central regions of the state," Republican pollster Daron Shaw told Fox News. "He needs that kind of support again and a slight tick up among suburban voters to pull even here."
Newsweek subscription offers >
Newsweek reached out to Biden and Trump's campaign for comment.
The statewide polls were conducted between September 20-23, days after Supreme Court Justice Ruth Bader Ginsburg's death on September 18. 810 likely voters were surveyed in Nevada, 830 in Ohio and 856 in Pennsylvania. The margin of error in all three states is plus or minus 3 percentage points.
According to FiveThirtyEight, Trump is ahead of Biden in just one out of the over 60 nationwide polls released this month. The Rasmussen Reports survey, released September 16, showed the president with a slim 1 percent lead over Biden. The result was within the poll's margin of error.
The last Fox News national poll, released September 13, had Biden ahead by 5 percent.