President Donald Trump is expected to deliver remarks at two campaign rallies in Ohio on Monday. The first will take place at Wright Bros. Aero, near Dayton International Airport, starting at 4:30 p.m. EST. Trump will speak at a second rally at the Eugene F. Kranz Toledo Express Airport at 7 p.m.
His re-election campaign will host a live stream of the latter event, which viewers can access via its official website, Facebook page and Twitter account. Interested parties are required to register for the private afternoon event in Dayton, titled "Remarks on Fighting for the American Worker," through the Trump campaign's website in order to watch it online.
The evening event, titled "Great American Comeback," is open to the public and does not require registration to watch online. Those attending the Toledo rally in person can register through the Trump campaign's website. Doors open at 4 p.m.
Trump has steadily increased his in-person campaign engagements since appearing at a rally in Tulsa, Oklahoma, in June, after the coronavirus pandemic prompted a temporary suspension of his schedule. The president and his campaign face ongoing criticism from Democrats for organizing these events and encouraging physical attendance despite health officials' overwhelming recommendations against large public gatherings during the pandemic.
"By registering for this event, you understand and expressly acknowledge that an inherent risk of exposure to COVID-19 exists in any public place where people are present," reads a disclaimer printed below the Trump campaign's online registration form.
"In attending the event, you and any guests voluntarily assume all risks related to exposure to COVID-19, and waive, release and discharge Donald J. Trump for President, Inc.; the host venue; or any of their affiliates, directors, officers, employees, agents contractors, or volunteers from any and all liability under any theory, whether in negligence or otherwise, for any illness or injury," the message continues.
Newsweek subscription offers >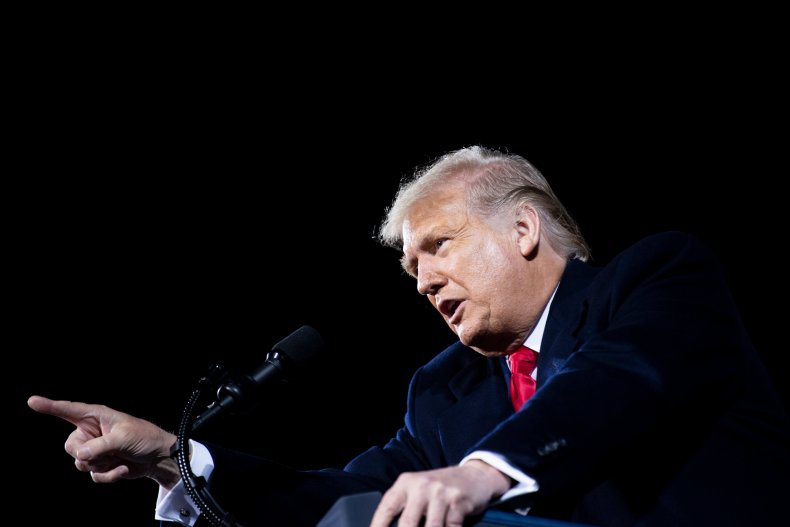 Democratic presidential nominee Joe Biden has approached campaign events with more caution, given the risks of COVID-19 transmission. The majority of Biden's campaign outreach is done virtually, although he did appear at an in-person rally in Minnesota, a battleground state, last week. Trump held a competing rally in Minnesota the same day. Jennifer O'Malley Dillon, Biden's election campaign manager, highlighted the dangers of Trump's crowded rallies in comments to Politico last week.
"People will die because of these types of events and that's from the president of the United States…And you look at folks that might not be wearing masks or aren't taking this seriously and you understand how that's the case," O'Malley Dillon said, referencing photos taken during recent Trump rallies that show numerous attendees without face masks. The Biden campaign manager noted that the absence of virus mitigation measures at Trump's campaign events contradict public health protocols established by his administration.
Newsweek reached out to the Trump campaign for comments but did not receive a reply in time for publication.