The Southeastern Conference kicks off its 2020 football season with a full slate of games. The 14-team league will play a conference-only schedule this fall, and each team has 10 games scheduled.
Among the seven matchups this weekend is the CBS afternoon game, which matches the Mississippi State Bulldogs visiting the LSU Tigers, who are the defending national champions. LSU, which had one of the most remarkable college football seasons ever assembled during its 2019 campaign, has the nation's longest current winning streak at 16 games.
LSU, a top 10 team in just about every poll, has a daunting task of trying to repeat. Looking back at LSU's unforgettable 2019 championship run, and its 2020 outlook, is sort of like looking back at President Donald Trump's 2016 and 2020 campaigns.
And to tie it together, of the three college football games Trump attended in the 2019 season, LSU played in two of them: at Alabama, and against Clemson for the national championship this January. The other was the Army-Navy game.
Newsweek subscription offers >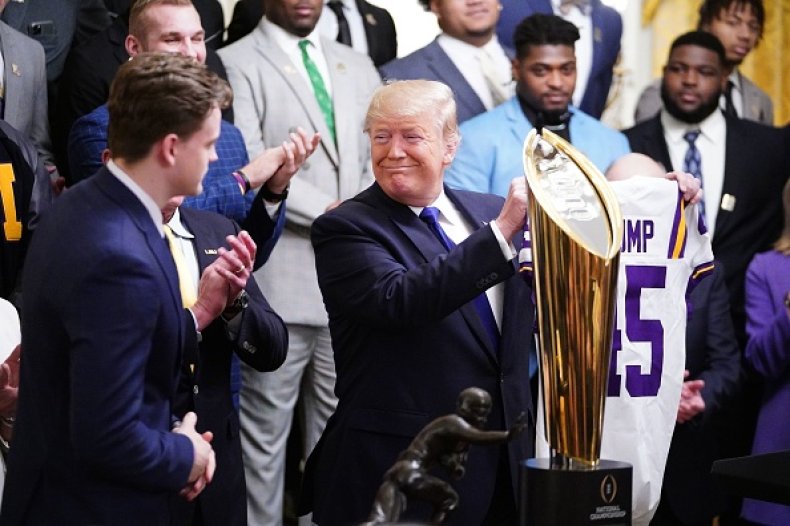 Getting back to the LSU-Trump comparisons, here's a quick look at how similar the two are:
LSU was well-known around the country, but was part of a crowded field when it entered the fray in 2019. Though their No. 6 preseason ranking looked sparkling, they had Herculean tasks of going to No. 9 Texas and No. 2 Alabama, and then facing home games against No. 8 Florida, No. 12 Texas A&M and No. 16 Auburn. Trump was a well-known businessman who entered a crowded field of 13 established Republicans who many considered all favorites to beat Trump. Trump and LSU both beat the heavyweights, and then had to face even better opponents. Trump went on to beat heavily-favored Hillary Clinton in the 2016 General Election. LSU went on to beat No. 4 Georgia, No. 4 Oklahoma and No. 2 Clemson to win the championship.
Trump in 2016 changed the course of how traditional presidents campaign, pushing aside political correctness and speaking his mind. Though his campaign seemed a little unorthodox to those outside of his circle, his team rallied and stuck together, and eventually America noticed. His campaign built a strong voter base of blue-collar workers that pushed for him to victory. LSU completely changed how it ran its traditional offense. The Tigers brought in Joe Brady as their passing game coordinator. With the help of second-year transfer Joe Burrow at quarterback, LSU shunned its run-heavy offense and broke several conference and NCAA passing and scoring records. LSU's fan base was already strong, but it got even stronger in their march to a title.
Trump's first big rally that brought him to the forefront as a contender happened at a stadium in Mobile, Alabama, in 2015. LSU defeated Alabama at a stadium in Tuscaloosa, Alabama during 2019 to legitimize the team's eventual run to the championship.
The transition between their last victories and the upcoming season, and reelection, has been filled with strange times and adversity. Both LSU and Trump, and the world, have dealt with the COVID-19 pandemic. Trump has stood as the leader of the country that has contracted the most cases, and deaths. Just last weekend, LSU coach Ed Orgeron said almost his entire team has caught the virus. LSU and Trump both believe the worst is behind them with the pandemic.
Turnovers. No, not on the football field, but with personnel. Trump has had an overwhelming amount of turnover in his Cabinet since taking office in January 2017. LSU has only five returning starters from last year's team, with 14 of those from last year getting drafted in the NFL this spring.
Trump finds himself trailing 2020 Democratic presidential candidate Joe Biden in just about every poll, just as he trailed Clinton in 2016. LSU finds itself in the bottom half of top 10 polls right now heading into their first game, just like 2019. Both Trump and LSU are hoping to pull some magic like they did before. In the world of sports and politics, like we've seen in the most recent years, anything can happen.
Mississippi State at LSU
Saturday, September 26, 2020
3:30 p.m. ET kickoff
CBS
tinyurlis.gdv.gdv.htu.nuclck.ruulvis.netshrtco.detny.im