Shortly after the death of 87-year-old U.S. Supreme Court Justice Ruth Bader Ginsburg, fellow politicians began issuing tributes and farewells.
Republican President Donald Trump released a statement Friday night calling Ginsburg a "titan of the law."
"Renowned for her brilliant mind and powerful dissents at the Supreme Court, Justice Ginsburg demonstrated that one can disagree without being disagreeable toward one's colleagues or different points of view," Trump said. "A fighter to the end, Justice Ginsburg battled cancer, and other very long odds, throughout her remarkable life. Our thoughts and prayers are with the Ginsburg family and their loved ones during this difficult time. May her memory be a great and magnificent blessing to the world.
Former Democratic President Barack Obama have yet to issue a statement on Ginsburg's passing.
Newsweek subscription offers >
Former Democratic President Bill Clinton, who appointed Ginsburg to the court in 1993, was quoted by Edward-Isaac Dovere, a staff writer at The Atlantic, as saying, "[Ginsburg] exceeded even my highest expectations when I appointed her. Her landmark opinions advancing gender equality, marriage equality, the rights of people with disabilities, the rights of immigrants, and so many more moved us closer to 'a more perfect union.'"
Democratic presidential nominee Joe Biden said in a statement, "Ruth Bader Ginsburg stood for all of us. She fought for all of us. As a young attorney, she persisted through every challenge that an unequal system placed in her way to change the laws of our land and lead the legal charge to advance equal rights for women."
"In the decades since," Biden continued, "she was consistently and reliably the voice that pierced to the heart of every issue, protected the constitutional rights of every American, and never failed in the fierce and unflinching defense of liberty and freedom. Her opinions, and her dissents, will continue to shape the basis of our law for future generations. May her memory be a blessing to all people who cherish our Constitution and its promise."
Biden then said that her replacement should be decided by whoever wins the upcoming November presidential election.
However, in a statement, Republican Senate Majority Leader Mitch McConnell of Kentucky pledged to give a Senate confirmation hearing to her replacement.
McConnell wrote, "Justice Ginsburg overcame one personal challenge and professional barrier after another. She climbed from a modest Brooklyn upbringing to a seat on our nation's highest court and into the pages of American history. Justice Ginsburg was thoroughly dedicated to the legal profession and to her 27 years of service on the Supreme Court. Her intelligence and determination earned her respect and admiration throughout the legal world, and indeed throughout the entire nation, which now grieves alongside her family, friends, and colleagues."
Former First Lady, former Secretary of State and former Democratic presidential candidate Hillary Clinton, wrote, "Justice Ginsburg paved the way for so many women, including me. There will never be another like her. Thank you RBG."
Independent Vermont Senator and former Democratic Presidential candidate Bernie Sanders wrote, "Justice Ruth Bader Ginsburg was one of the great justices in modern American history and her passing is a tremendous loss to our country. She will be remembered as an extraordinary champion of justice and equal rights."
Democratic House Speaker Nancy Pelosi of California, wrote, "Tonight, the flags are flying at half staff over the Capitol to honor the patriotism of Justice Ruth Bader Ginsburg. Every woman and girl, and therefore every family, in America has benefitted from her brilliance."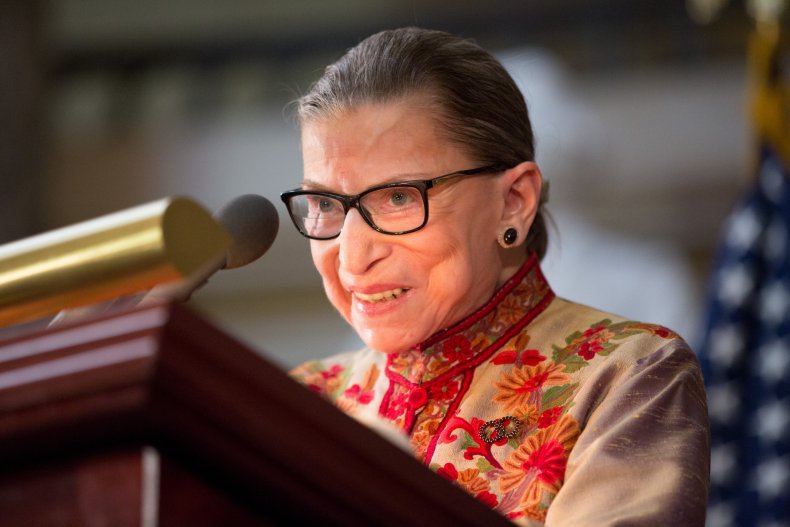 Counselor to Republican President Donald Trump, Kellyanne Conway, wrote, "Justice Ruth Bader Ginsburg led a remarkable life of consequence. She worked with passion & conviction, inspired many women, offered hope to other cancer survivors. Prayers to her loved ones. May She Rest In Peace."
Renowned journalist Dan Rather wrote, "A shock. A sadness. A great loss. The passing of Ruth Bader Ginsburg leaves a hole in a nation already reeling. She is an American hero, in every sense. We can honor her by joining to carry forth her legacy of equality, empathy, and justice. May she Rest in Peace."
Former Democratic Georgian gubernatorial candidate and voting rights advocate Stacey Abrams wrote, "May the Lord see Justice Ruth Bader Ginsburg to her well-earned rest. May we continue fight for Justice here with her passion, brilliance and extraordinary mischief. Until good is done. #RBG."
Democratic New York Representative Alexandria Ocasio-Cortez wrote, "We have lost a giant in the history of our nation with the passing of Ruth Bader Ginsburg. It is heartbreaking that in her final moments she was, as are many others, preoccupied with what would happen after her passing. I want to make one thing clear: we can, and must, fight."
tinyurlis.gdv.gdv.htu.nuclck.ruulvis.netshrtco.detny.im