Local reports from protesters in Portland, Oregon said that tear gas (also known as CS gas) was used against protesters on Friday night/Saturday morning, just eight days after Mayor Ted Wheeler ordered a ban on its use.
NBC-affiliate KGW shared tweets by independent reporters documenting protests outside a building of U.S. Immigration and Customs Enforcement (ICE), where demonstrators rallied against alleged abuses by the federal agency. Tweets by reporter Garrison Davis stated it was the Department of Homeland Security that used tear gas, while police made arrests.
Newsweek subscription offers >
In an email to Newsweek, a public information officer for the Portland Police Bureau (PPB) said that local law enforcement weren't responsible for the tear gas: "[T]he Portland Police Bureau did not deploy tear gas last night, but I ask that you contact federal law enforcement to inquire about munitions they used. Their operations are completely separate from ours."
In a statement obtained by Newsweek, Wheeler said that the local police did not use CS gas.
"The Portland Police complied with the ban on tear gas while still providing mutual aid," Wheeler said. "I call on everyone in our community to step up and end the violence and to focus on advancing racial justice,"
In tweets Friday, the Portland police department ordered people gathered near South Moody Avenue and South Bancroft Street to disperse northward and warned that those who do not comply may be arrested, given a citation or be subject to "crowd control agents" including "impact munitions."
In a Saturday press release, the PPB said that 11 arrests were made amid orders to disperse.
On September 10, Wheeler announced the ban on tear gas for the Portland police, with a statement reading:
…as Police Commissioner, effective immediately and until further notice, I am directing the Portland Police to end the use of CS gas for crowd control… During the last hundred days Portland, Multnomah County and State Police have all relied on CS gas where there is a threat to life safety. Arson, vandalism, and violence are not going to drive change in this community. I expect the police to arrest people who engage in criminal acts. I expect the District Attorney to prosecute those who commit criminal acts. And I expect the rest of the criminal justice system to hold those individuals accountable. We must stand together as a community against violence and for progress. I call on everyone to step up and tamp down the violence. I'm acting. It's time for others to join me.
Hours after Wheeler's statement on September 10, the PPB released its own statement about using tear gas, explaining its purpose. "CS gas is a tool which has been used sparingly in the last 104 nights. We want to clear up a misconception that it is being used as crowd control. It is not. It is being used to disperse crowds only when there is a life safety event," the statement said.
It continued, saying that police would likely need more force if tear gas is banned. "There remains an expectation that police will make arrests for crimes committed in civil disturbance events. The inability to use CS means this task will require higher levels of force to accomplish," the statement said.
The bureau also said that it supported research for alternatives to the gas, but said for now there wasn't one. "The Police Bureau is in favor of research, but research takes time. Removing tools without well vetted alternatives, with policies and training in place prior to their use, places police and community members at risk," the statement said.
In an email to chiefs obtained by The Oregonian, Wheeler called out the PPB for the statement. "[W]hile I do not often issue directives to the Portland Police Bureau, when I do I expect them to be followed," he wrote. "I welcome frank input and thoughtful debate as I formulate specific policy initiatives. However, once I have made a decision, effective implementation of the chosen strategy requires unity throughout my administration."
He also called on the PPB to submit plans to protect citizens during September 26 demonstrations and called for the bureau to "develop a new media protocol to improve coordination and awareness."
Newsweek submitted a media inquiry through the submission form on the Department of Homeland Security website but did not receive a response in time for publication.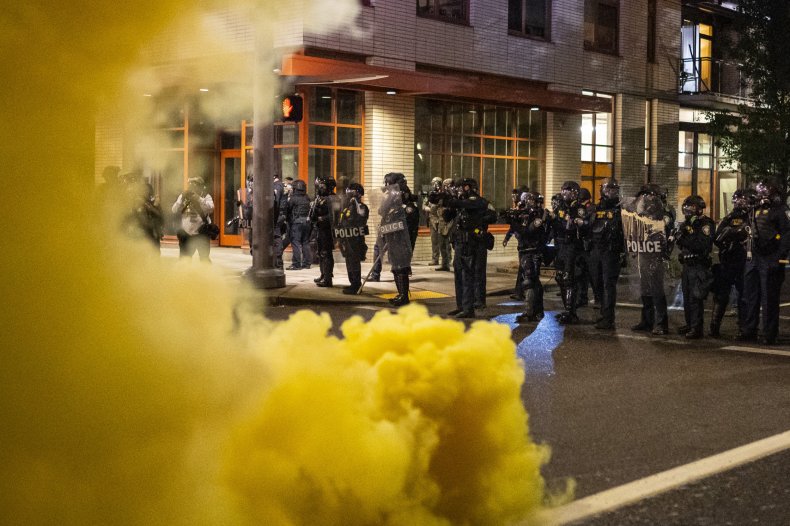 Update 9/19/20 4:59 p.m. EST: This story has been updated to include Mayor Ted Wheeler's statement, which was obtained after the story first published.
tinyurlis.gdv.gdv.htclck.ruulvis.netshrtco.de