Secret Society of Second-Born Royals is the latest movie to come to Disney+. Peyton Elizabeth Lee leads the cast as Sam, a princess who is tired of palace life when she learns she has a particular set of skills which might help her save the world. Starring alongside her as members of the secret society and those associated with it are a collection of young actors including Noah Lomax, Elodie Yung and Niles Fitch, who star alongside one-time Pitch Perfect star Skylar Astin.
Who is in the cast of Secret Society of Second-Born Royals?
Peyton Elizabeth Lee – Sam
Who is Sam: A princess in the nation of Illyria, who discovers she has magnified vision and hearing and so joins a top-secret training program for royal supers.
Newsweek subscription offers >
Who plays her: The 16-year-old Peyton Elizabeth Lee, one-time lead of Disney's series Andi Mack. She previously had a recurring role in Shameless and provided a voice in Lion King spin-off The Lion Guard.
Speaking to Yahoo about her new role, the actor said, "Every Disney film has a prince and a princess, but they are always going to be the queen or king, so to see those side characters in the main character role and see them take control of their lives, it's super empowering, and all round fun to watch."
Noah Lomax – Mike
Who is Mike: Sam's best friend, her band mate when she does not have royal duties and/or superhero training to do.
Newsweek subscription offers >
Speaking to Screen Rant, Lomax said of his role: "I feel like Mike, because he's a non-royal, he's a healthy distraction [for] Sam. Keeping her away from all the stresses that the royal life may bring her and, with their whole band thing, keeps her mind focusing on that."
Who plays him: Lomax, 18, has been working in TV and film for at least a decade, and appeared in three episode of The Walking Dead when he was eight. Since then, he has starred in films like Safe Haven, HBO's The Tale and The SpongeBob Movie: Sponge Out of Water.
Skylar Astin – Professor James Morrow
Who is James: The lead trainer of the Secret Society of Second-Born Royals, who is one of Disney's few out gay characters. He also has the power to multiply himself – though not the power to overcome his serious gluten allergy.
Who plays him: Skylar Astin, who provides a non-singing role after showing off his voice in the Pitch Perfect movies, Crazy Ex-Girlfriend and Zoey's Extraordinary Playlist.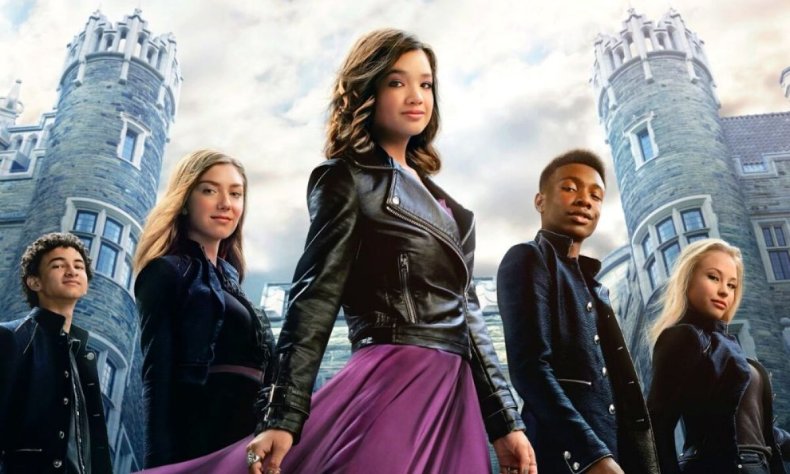 Niles Fitch – Tuma
Who is Tuma: A prince whose power is a voice that makes others do his bidding.
Who plays him: Niles Fitch, best known for playing the younger version of Sterling K. Brown's character in This Is Us.
Isabella Blake-Thomas – January
Who is January: A society member who can absorb other people's powers.
Who plays her: English actor Isabella Blake-Thomas, who has previously played small roles in Da Vinci's Demons, Johnny English Reborn and Shameless.
Olivia Deeble – Roxana
Who is Roxana: A self-obsessed and social media-savvy princess who can turn invisible.
Who plays her: Australian actor Olivia Deeble, fresh off of four years in Aussie soap opera Home and Away.
Faly Rakotohavana – Matteo
Who is Matteo: A social introvert who can talk to insects.
Who plays him: Faly Rakotohavana, most recently seen in four episodes of Disney show Raven's Home.
Also starring in Secret Society of Second-Born Royals is Fuller House's Ashley Liao as Sam's sister Eleanor, Daredevil's Elodie Yung as their mother Catherine and V-Wars's Greg Bryk as a fearsome foe known as Inmate 34.
Secret Society of Second-Born Royals is released on Friday, September 25 on Disney+.