Illinois Democratic Senator Tammy Duckworth introduced legislation on Wednesday to prevent federal agents in the U.S. from wearing camouflage uniforms.
During violent protests against racism in some U.S. cities, federal agents who were sent to the demonstrations by the White House were spotted wearing camo. Some observers mistakenly identified those agents as members of the military. In July, the Pentagon expressed concern about the similarity between the uniform styles. Duckworth's proposal, known as the Clear Visual Distinction Between Military and Law Enforcement Act, is designed to end the confusion between the military and federal agents.
"The Trump administration's decision to deploy federal law enforcement officers outfitted in camouflage uniforms in response to those protesting the death of George Floyd and other Black Americans blurred the lines between military service members and law enforcement officers while causing even more fear and division," Duckworth said in a Wednesday statement. "We must prevent this from happening again."
Duckworth's proposal was supported by Democratic Representative Cory Booker of New Jersey, Oregon Democratic Representatives Ron Wyden and Jeff Merkley and Virginia Democratic Representative Tim Kaine.
Newsweek subscription offers >
"Citizens of a free society shouldn't be constantly confused about who is military and who is law enforcement," Kaine said in a Wednesday statement. "Sadly, that has become a regular occurrence across the U.S. this year. This bill will clarify who is who amid protests, strengthening both our liberties and our security."
Newsweek reached out to the Department of Homeland Security for comment.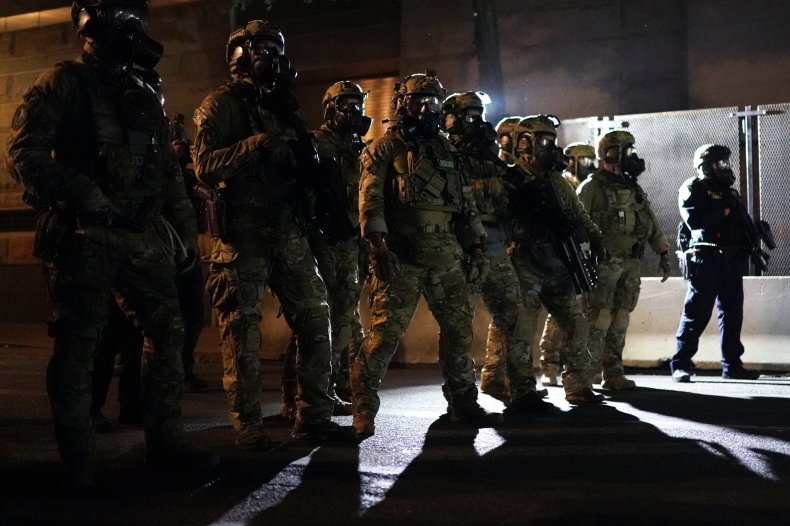 According to the legislation, an exception would be provided for federal officers who are "engaged in a discreet tactical operation where the ability to blend into the surroundings is judged to be necessary for the success of the operation." Any situation in which a federal agent wore camouflage would be required to be reported bi-annually to Congress.
Newsweek subscription offers >
In July, federal agents in Portland, Oregon who were assigned to protect government assets were seen wearing camouflage uniforms. Name badges were not immediately visible. The presence of federal agents wearing the patterned outfits led some to believe that Portland had been infiltrated by a secret police force.
After video surfaced in June of camo-wearing agents in Portland taking protesters off the street and driving them away in unmarked vehicles, Democratic House Speaker Nancy Pelosi called for an end to the "full anonymity" of the agents.
Chief Pentagon spokesman Jonathan Hoffman said in June that the similarity between the uniforms had come to the attention of U.S. Defense Secretary Mark Esper.
"There are some law enforcement that wear uniforms that make them appear military in appearance," Hoffman said during a press conference. "The secretary has expressed a concern of this within the administration that we want a system where people can tell the difference." Hoffman explained that in some situations law enforcement officers who were acting within their scope of duty "were misconstrued with military personnel who would not be appropriately doing those roles."
Some federal agents began withdrawing from Portland in July. Acting Deputy Homeland Security Secretary Ken Cuccinelli told members of the Senate Judiciary Committee in August that federal agents still deployed to Portland would be given different uniforms.