Secretary of State Mike Pompeo said the United States will endeavor to enforce UN sanctions against Iran amid heightened tensions after the nation threatened retaliation over the drone strike killing of General Qasem Soleimani.
Pompeo said U.N. sanctions are returning against Iran, following the United States flagging the nation's "significant non-performance of its JCPOA commitments" last month.
The JCPOA, Joint Comprehensive Plan of Action, is also known as the Iran nuclear deal, in which the nation agreed to reduce its uranium stockpiles.
Stating U.N. measures against Iran have returned, Pompeo further said measures will be taken to enforce a position of "maximum pressure" being taken against the Iranian government.
Newsweek subscription offers >
"Soon, we will announce a range of additional measures to strengthen enforcement of @UN sanctions on Iran," he tweeted. "Our maximum pressure campaign on the Iranian regime will continue until it stops spreading chaos, violence, and bloodshed."
Prior to this, he said: "Virtually all @UN sanctions have returned on Iran, the leading state sponsor of terrorism and anti-Semitism. This includes a permanent extension of the arms embargo. This is great news for peace in the region!
Newsweek subscription offers >
"We will not hesitate to enforce our sanctions, and we expect all @UN Member States to fully comply with their obligations under these re-imposed restrictions."
This will mark "a step toward international peace and security," Pompeo further said in a statement released Saturday night.
Iran's foreign ministry has said the U.S. is incorrect in claiming these sanctions have been reimposed.
"The United States falsely claims that the UN Security Council sanctions against the Islamic Republic of Iran are back in effect at a time when the Council has basically rejected a demand by the US, as a non-signatory to the JCPOA, to trigger the trend of reinstating the sanctions," it said in a statement.
Newsweek has contacted the State Department, the White House, Iran's Ministry of Foreign Affairs and the U.N. for comment.
This fresh disagreement comes as the clash between the U.S. and Iran over the killing Soleimani continues.
Soleimani had been head of the Revolutionary Guards Quds Force, was killed in the strike in January—with the Trump administration claiming this was carried out due to "imminent threats to American lives."
Iran has previously denied reports it was plotting to target the U.S. ambassador to South Africa in a revenge attack, reported by Politico, which cited intelligence officials.
However, the head of Iran's Islamic Revolutionary Guards Corps (IRGC) has since threatened retaliation against those who had "direct and indirect roles" in the strike on Soleimani.
"We will hit those who had direct and indirect roles. You should know that everybody who had a role in the event will be hit, and this is a serious message. We do prove everything in practice," he said in a statement on the IRGC website, according to Radio Free Europe.
Following the emergence of the alleged ambassador attack plot, Pompeo previously said threats would be taken seriously.
He told Fox News he could "comment on the intelligence" but said Iran had engaged in "assassination efforts all across the world."
President Donald Trump said if Iran did retaliate, it would be met with action "1,000 times greater in magnitude."
Responding to the alleged ambassador attack plot, he said: "According to press reports, Iran may be planning an assassination, or other attack, against the United States in retaliation for the killing of terrorist leader Soleimani, which was carried out for his planning a future attack, murdering U.S. Troops, and the death & suffering…caused over so many years. Any attack by Iran, in any form, against the United States will be met with an attack on Iran that will be 1,000 times greater in magnitude!"
At the time of those reports emerging, Iran's foreign affairs ministry spokesman Saeed Khatibzadeh described the reports as "anti-Iran propaganda."
He said Iran would continue to pursue "international legal action at all levels in connection with the criminal and cowardly assassination of General Soleimani."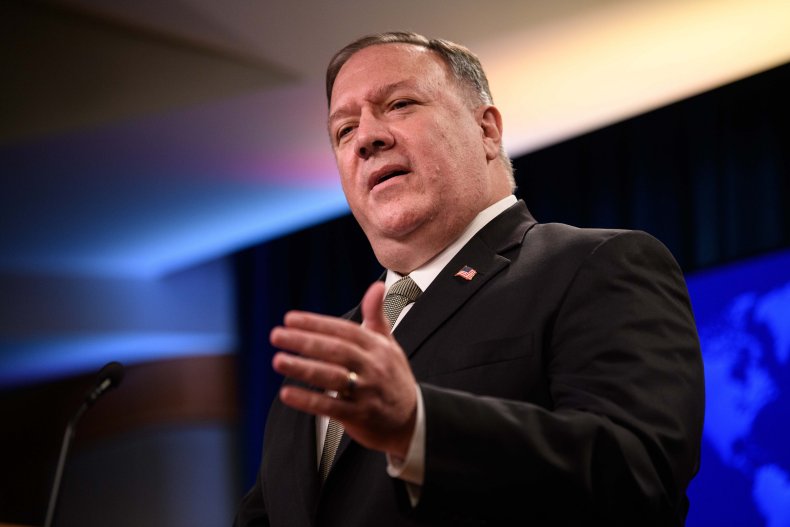 tinyurlis.gdv.gdv.htu.nuclck.ruulvis.netshrtco.detny.im