Amy Coney Barrett, a judge for the 7th Circuit Court of Appeals based in Chicago, is believed to be the frontrunner as President Donald Trump's pick to replace the late Justice Ruth Bader Ginsburg on the Supreme Court.
Barrett, 48, a mother to seven children, was herself born into a family of seven kids. Her father, Mike Coney, was an attorney for Shell Oil, while her mother, Linda, was a stay-at-home mom. Mike is also a deacon at the St. Catherine of Siena Parish Church in Barrett's hometown of Metairie, Louisiana.
Mike and Linda were married during Mike's first semester of law school, according to a February 2018 essay Mike wrote for St. Catherine. In the essay, he tells of how Shell Oil promoted him from an attorney at the company's New Orleans office to a position in the company's lead office in Houston. But he soon resigned due to the strain on his family. He was later rehired by Shell, who promised to keep him in Louisiana.
Mike and Linda Coney are also members of the People of Praise group, to which Barrett and her husband belong. In 2010, Mike became the group's coordinator for the Southern Branches of the organization. During Amy Coney Barrett's confirmation hearings, her family's membership in People of Praise was the subject of a New York Times article, which described the organization as a "small, tightly knit Christian group."
Newsweek subscription offers >
The organization teaches that husbands should assume authority as the head of the household. Though the Coneys are devout Catholics, People of Praise is an ecumenical group that welcomes members of different Christian faiths. Sean Connelly, a spokesperson for People of Praise told Heavy.com in 2018 that the group does not disclose membership, but was able to provide the outlet with additional information about the organization.
"A majority of People of Praise members are Catholic, and yet the People of Praise is not a Catholic group. We aim to be a witness to the unity Jesus desires for all his followers. Our membership includes not only Catholics but Lutherans, Anglicans, Methodists, Pentecostals and nondenominational Christians. What we share is a common baptism, a commitment to love one another and our teachings, which we hold in common," Connelly told the outlet.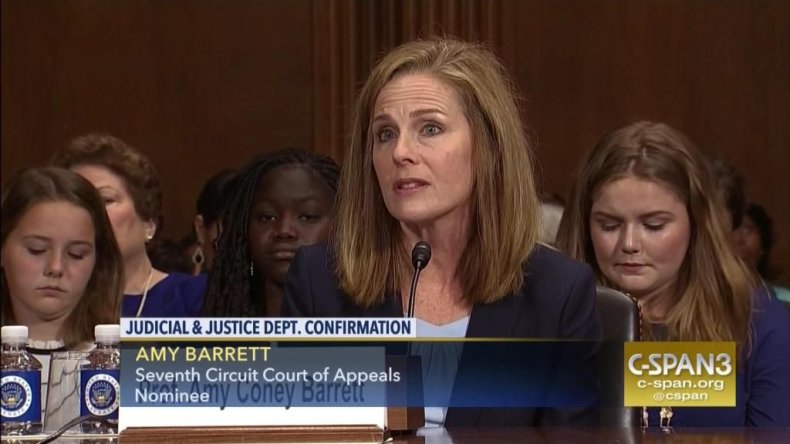 Like Mike Coney, Amy Coney Barrett's husband, Jesse Barrett, is a lawyer. However, while Mike served in the private sector, Jesse is a federal prosecutor in Indiana's northern district. Amy and Jesse met at Notre Dame Law School in Indiana, where both received their degrees.
Newsweek subscription offers >
Jesse and Amy have seven children: five biological and two adopted. One of the few times she's spoken publicly about her family is during her 2017 confirmation hearing.
"Emma is 16. The first apple of our eye," Amy said during the hearing. "Vivian, directly next to Emma, is 13. Vivian is our miracle. Vivian joined our family—she was born in Haiti and she came home when she was 14 months old, and she weighed 11 pounds and she was so weak we were told she might never walk normally or speak. Today Vivian is a track star, and I assure you she has no trouble talking. Tess, sitting next to Vivian, is also 13 years old. Both in 8th grade. She's one of the most compassionate and determined people that I know."
Emma, Vivian and Tess appeared with Amy Coney Barrett at the hearing, alongside Mike and Linda Coney. Her four other children remained home, "with friends and fearless babysitters," Barrett said.
"John Peter is 10, and like Vivian, he was born in Haiti. He joined our family in 2010 when he was 3 years old after the devastating earthquake in Haiti," she said.
"Liam is 8. Typically curious 8-year-old. And Juliet is our spunky 6-year-old. Benjamin, our youngest, is 5. and Benjamin has special needs, and that presents unique challenges for all of us. But I think all you need to know about Benjamin's place in the family is summed up by the fact the other children unreservedly identify him as their favorite sibling."