Viewers of the Fox television program The Masked Singer were surprised to tune on Wednesday to see a full studio audience seemingly ignoring coronavirus protocols by not wearing face masks.
Because of the coronavirus pandemic, many television productions have shifted their production techniques. Some hosts are presenting their shows away from audiences by broadcasting from their homes or non-studio locations. By presenting shots of an audience without face coverings, some fans of The Masked Singer were befuddled.
"Okay, I just turned on The Masked Singer," wrote Twitter user and blogger Sean's Ramblings. "How is their a full audience? Wait, the audience is in the front in one camera shot and the judges are in the front in another. I'm confused. Is anyone really there?"
In an effort to provide viewers with a good experience while still protecting cast members from COVID-19, The Masked Singer incorporated a combination of virtual reality, old footage of audience members and a socially distanced judging panel to create a show that gave the sense of having the participation of a having a full studio audience.
Executive producer Craig Plestis said in an interview with Variety that since lockdown began, "From the day we started lockdown, it's been a process from how do we get back to filming in a safe way with high production values. It was incredibly challenging, creating music tracks and vocal coaching people remotely—incredibly difficult. And then creating the systems to ensure people are separated and safe when they're on set, not allowing different areas of the crew to populate areas."
Newsweek subscription offers >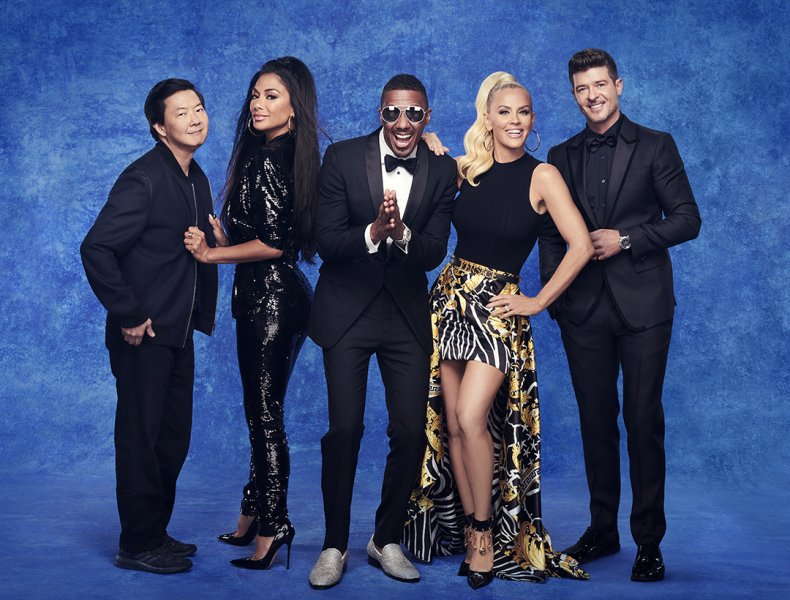 Plestis said that virtual reality techniques were also incorporated to enlarge the look of the sets. Some fans were chosen to view new episodes of the show in a private online screening room in order to cast their votes for the winner. Those viewer votes comprise 50 percent of each competitor's total score while the judges' votes make up the other half.
Newsweek reached out to Fox Television for comment.
Social distancing and regular testing became a part of the production of the show.
"We went above and beyond the outlines of the CDC and local authorities in order to keep people safe," Plestis told Deadline in September.
Ken Jeong, a comedian and former doctor who serves a member of the judging panel on The Masked Singer, said in a September interview that he was "very proud to be associated with a show that is really reminding people to always wear a mask."
Jenny McCarthy, Mark Wahlberg, Nicole Scherzinger and Robin Thicke comprise the rest of the judges. The Masked Singer has been of prime time television's highest-rated programs. The season three finale of the show pulled in an average of over 9 million viewers.